The power of water controlled
WATER JET CUTTING
TECHNOLOGY

THIS POWER HAS SHAPED THE MOST INCREDIBLE LANDSCAPES OVER THOUSANDS OF YEARS. THIS IS THE POWER THAT LDSA MAKES AVAILABLE TO YOU …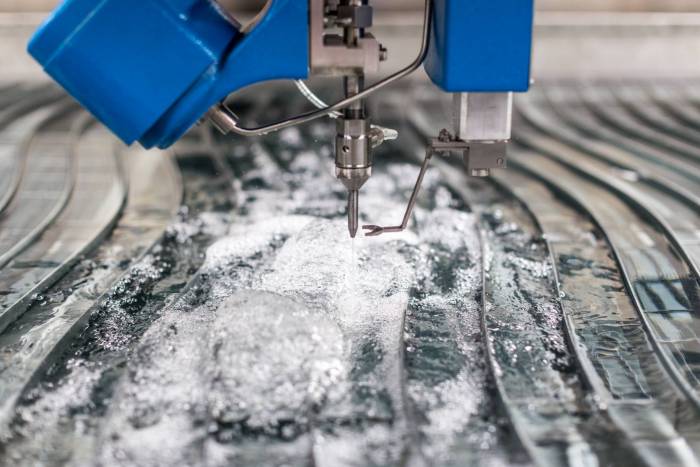 Principle of water jet cutting

The water is first filtered to remove any impurities.
It is then compressed using a special water jet cutting pump up to 6200 bar.
The water passes through a calibrated aperture of approximately 0.2 to 0.40 mm in diameter which accelerates it up to 2 to 3 times the speed of sound.
The energy then stored by water molecules associated with the addition of abrasives, allows virtually all materials to be cut:
> 600 mm and more for soft materials
glass wool, rubber, paper, cardboard, polypropylene …
> 500 mm for harder materials,
stone, Dibond, aluminium, brass,
plastic, carbon…
> 200 mm for very hard materials
Steel, titanium, stainless steel …

WATER JET CUTTING
TECHNOLOGICAL ADVANTAGES


Cold cutting does not alter the molecular structure of the cut material

Environmentally friendly process: because of low water consumption and lack of toxic fumes (aerial particles, smoke, steam)

Multi-bridge and multi-head water jet cutting for increased productivity


Cutting precision and remarkable cleanliness

Multi-bridge and multi-head water jet cutting for increased productivity

It also allows the cutting of very high thicknesses