THE ALLIANCE OF
INNOVATION & KNOW-HOW

LDSA is the European pioneer in the design of
VERY HIGH PRESSURE WATER JET CUTTING MACHINES.
With more than 25 years of experience, LDSA has
become the leading company in France and one of the
leading European manufacturers.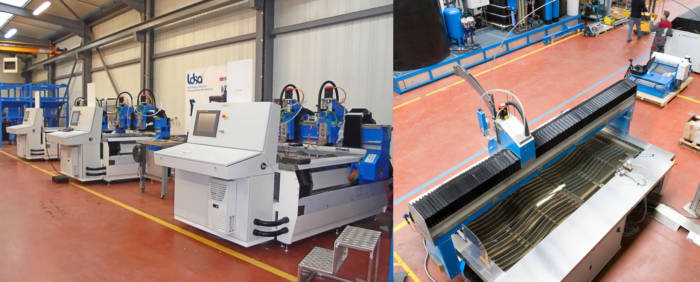 KEY DATA
Business accounts of more than € 11.5M
30 employees
5000 m2 (assembly, production, offices).
The company works in more than 20 countries
More than 200 machines designed and installed
The company has always been able to adapt to changing customer needs and the market for water jet cutting.
LDSA offers the skills and advice of its design office. Our engineers can carry out feasibility studies, process qualification and optimization as well as design and manufacture of complete systems up to 20 simultaneous lines.
LDSA can offer the most complete solutions on the market with 4 ranges of "upgradeable" machines, with a wide choice of table sizes ranging from 1000x1000mm up to 18000x6000mm as standard (effective work).

Their versatility, reliability and precision lets you cut all types of materials, and produce parts in complex or simple shapes at optimal productivity!
LDSA machines, driven by FANUC CNCs, are equipped with pressure booster pumps or direct action from 3800 to 6200 bar provided by its two traditional partners:
the world leader KMT (USA), and the European leader BFT (Austria).


Our special relationship with these two world leaders further demonstrates our ambition to be at the forefront of the needs and requirements of the market.
Our know-how in specialised machines and robotics also allows us to offer complete systems tailored to the specific requirements of our customers.
OUR FIELDS OF EXPERTISE

Design and manufacturing
of water jet cutting machines.
We ensure installation that is adapted to the customer's needs: production constraints, security standards…


After-Sales Service
Responsive and professional.


Production department
Pre-sales, process industrialisation, feasibility test, analyses, pre-series…


Electricity department
Engineering and installation and industrial electricity.
Website made by